"Your daily reminder to relax"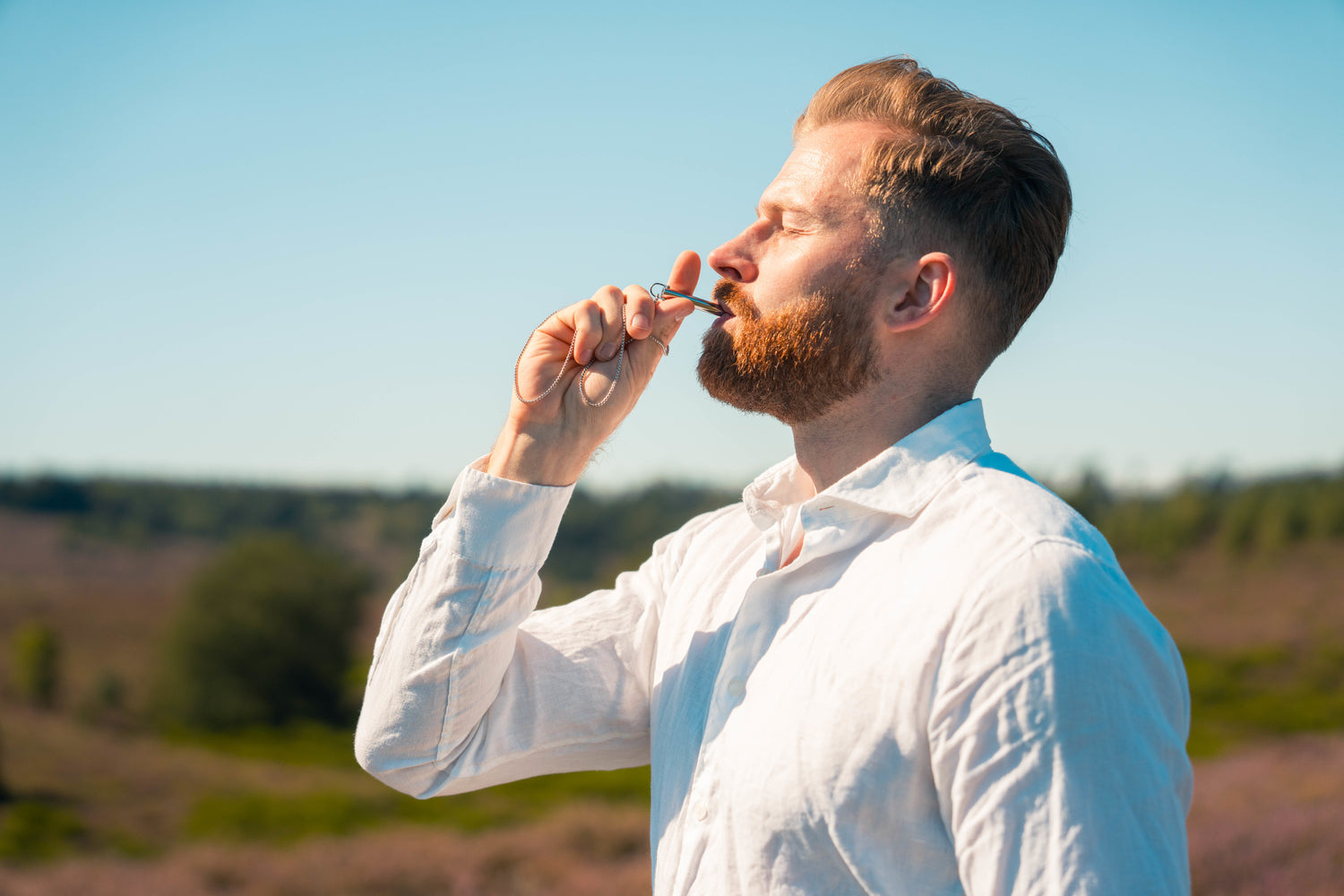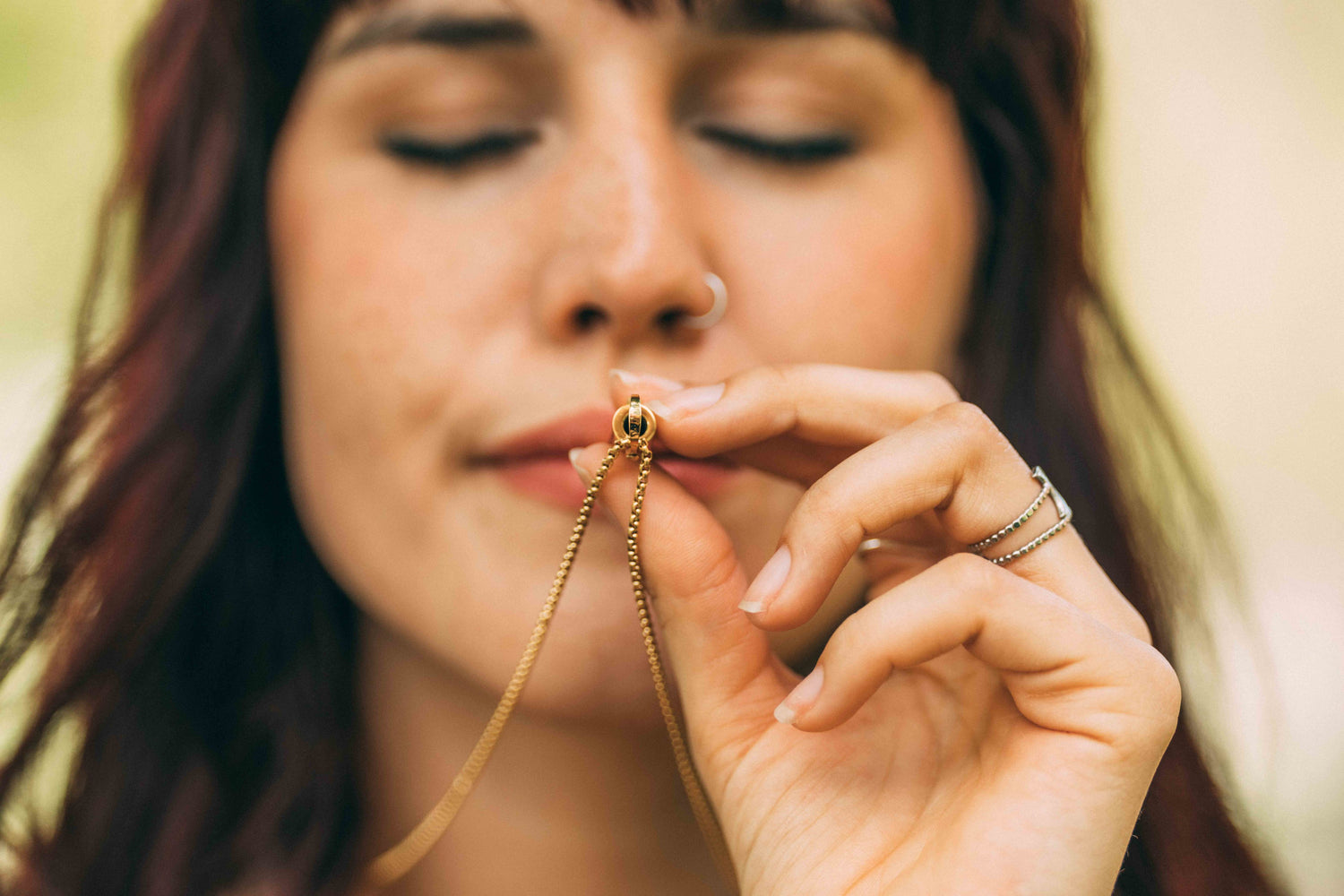 "Change your breath, improve your life"
The AIKI Breathing Tool teaches you to extend and slow down your exhale and makes you breath more consciously and deeply. See below a small overview of the scientifically proven benefits of daily breathing exercises:

+ Improves sleep

+ Reduces heart rate & blood pressure

+ Improves lung function

+ Lowers cortisol (stress hormone)

+ Improves concentration & focus

+ Stronger breathing muscles

+ Peace of mind & body
Explore all benefits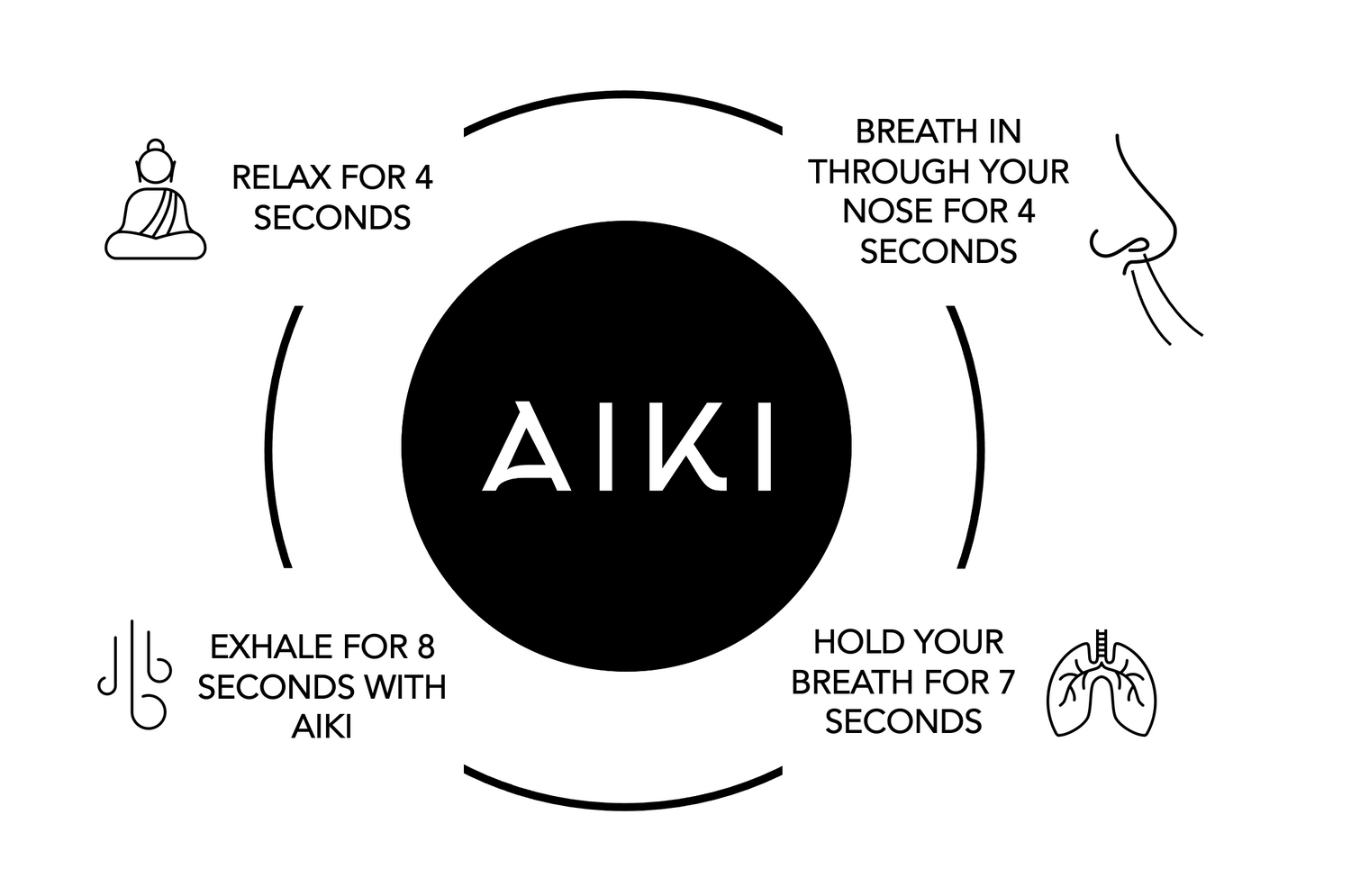 The Art of Breathing
How does the AIKI Breathing Tool work?
The AIKI Breathing Tool lets you exhale more effectively, allowing your body to take in more oxygen and your mind to calm down. Whether you are relaxing after a long day at work, calming yourself down before an important meeting or preparing yourself for a good night's sleep, the AIKI Breathing Tool is the perfect tool to improve your breathing and your well-being
Read more
Trustpilot Reviews
For some time now I have been in possession of the breathing necklace. I use it daily and I am very satisfied with it because the necklace helps me calm down and reminds me to do the daily breathing exercise. In addition, it is also a real eye-catcher!

Sharon Haans, Tilburg
I've had the breathing necklace for a week and can confirm that it absolutely works. After doing the breathing exercise for a few minutes I feel more relaxed. The necklace was also delivered quickly.

Laura Stevens, Lierop
I wear the AIKI breathing necklace while working from home. Before I go into a meeting I do a quick breathing exercise to make sure I´m relaxed.

Mike van Dam, Arnhem
After seeing the success of this breathing necklace in America, I bought one from Aiki. Delivered the next day and satisfied with the results. Besides that it helps me relax, it also helps me to get rid of my smoking addiction. I can recommend this to everyone!

Justin Wijland, Emmen
Breathing necklace looks good and very well packaged. Also delivered quickly

Anniek van Loon, Veldhoven
I can recommend this product to everyone. I sometimes suffer from hyperventilation and this breathing necklace helps me to calm my breathe again. This "tool" helps me to exhale slowly which really helps you relax. I follow the steps that are included as instructions in the box

Laura de Kroon, Zeist
Share your AIKI Breathing Tool with
FOLLOW US ON @AIKICollection
F.A.Q.
WHAT is the AIKI breathing tool?

The AIKI Breathing Tool is a necklace specially designed and developed to extend and slow down your exhale. By inhaling through your nose and exhaling through the Breathing Tool automatically your exhale will extend and will be deeper. As a result of this you will bring your body and mind to rest within seconds.
HOW DOES THE BREATHING TOOL WORKS?

With the AIKI Breathing Tool we let you breathe more consciously. Human breathing is directly affected when we experience stress or anxiety. We start to "over breathe" in a wrong way, what a negative impact has on our body processes. By breathing in through your nose and exhaling through the Breathing Tool the exhale will automatically be extended and deeper. An extended exhale stimulates our vagus nerve. When this happens our heart rate will slow down and our blood pressure will decrease. As a result of this our body and mind will relax within seconds in an organic way.

To achieve the best and most effective results, we created the AIKI Cycle: inhale through your nose for 4 seconds, hold your breath for 7 seconds, exhale through the breathing tool for 8 seconds and relax for 4 seconds. The cycle is based on the by scientifically proven breathing techniques.

Read more information about how AIKI works here.
How Often and How Long to Use the Breathing Tool?

Generally, it is recommended to schedule a few sessions daily, for instance, in the morning and evening. This helps maintain consistency and maximize the benefits of deep breathing.

The duration of each breathing session can also vary, but experts suggest that even a few minutes per session can provide significant benefits. A commonly used technique is the "4-7-8" breathing, where you inhale for 4 seconds, hold your breath for 7 seconds, and exhale slowly for 8 seconds. This can be repeated several times depending on your preference and available time.

In general, 5 to 10 minutes per session should be more than sufficient to achieve the desired effect.
is this breathing exercise really scientifically proven?

In recent years there have been several studies done about breathing exercises all over the world. It has emerged that daily breathing exercises have several benefits, including: lower cortisol levels, decreased heart rate and blood pressure and improved sleep. The AIKI breathing tool has been developed to help you learn to breathe more slowly so that this eventually becomes a habit for you. Because the breathing tool is also designed as a necklace, you are automatically reminded to do your daily breathing exercise as soon as you wear it.

The idea comes from the phenomenon of 'pursed lip breathing'. One way to do this is to breathe out through a straw. We used the straw as the basis for the design of the Breathing Tool (hence the elongated shape). For years, experts have recommended this technique for panic and anxiety attacks because you can breathe out longer and slower. This calms your breathing and eliminates stress and anxiety. The American Lung Association additionally recommends this breathing technique for people with tightness symptoms such as COPD or asthma, for example.

See below link to video about 'Pursed Lip Breathing' (video in English):
Why is it better to use a breathing tool?

We specially designed the AIKI Breathing Tool to exhale comfortably for at least 8-10 seconds to calm the nervous system and help the body relax. We chose carefully dimensions that provide the right resistance during your exhale (to slow down exhalation) but still ensure comfort. Because the Breathing Tool is designed as a stylish necklace, it is available to you any time of day at any place. Additionally, when you wear the necklace around your neck, it serves as a reminder to breathe correctly even when you are not actively engaged in breathing exercises.


what material is the aiki breathing tool made of?

The AIKI Breathing Tool is made of high-quality stainless steel, to be precise: stainless steel 316L. This type of material is known to be very resistant to corrosion and is also widely used in the medical world for surgical instruments. The Breathing Tool is therefore also water-resistant and will not discolour with contact with water/seawater. Stainless steel 316L is hypoallergenic and should not cause any allergic reactions.
Are there any other questions?
See more questions and answers here